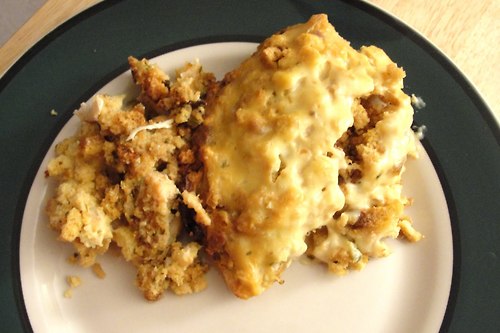 It's that time of the season for Crockpot cooking! This easy crockpot chicken breast recipe is made with Swiss cheese, cream of mushroom soups, stuffing mix, butter and cream of chicken soup.
Ingredients:
4 boneless chicken breast halves, without skin
4 slices Swiss cheese
1 can (10 1/2 ounce) condensed cream of chicken soup
1 can (10 1/2 ounce) condensed cream of mushroom soup
1 cup chicken broth
1/4 cup milk
1 bag Pepperidge Farm Sage and Onion Stuffing Mix
1/2 cup melted butter (you could use half this if you want)
salt and pepper to taste
Preparation:
Season chicken breasts with salt and pepper; place chicken breasts crock pot. Pour chicken broth over chicken breasts. Put one slice of Swiss cheese on each breast. Combine both cans of soup and milk. Cover chicken breasts with soup mixture. Sprinkle stuffing mix over all. Drizzle melted butter on top. Cook on low for 6-8 hours.